My mother turned 48 yesterday. My first child was born the day before her birthday. All through my labor she begged me to wait just a little longer before I allowed that baby to be born! HA HA!
Here she is with her newest grandchild Amy.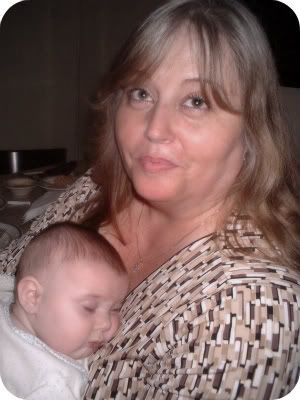 My mother was a teenage mother. I came to her when she was 17 years old. She was in her sixth month of pregnancy and I was partially born in the back seat of the car weighing in at only 1 pound and 1 ounce. I would drop down to below a pound very soon after birth.
I lived in the hospital for 4 months and was in and out again and again for various reasons until around my 4th birthday. I seemed to just magically catch up with my peers around that time and didn't have as much illness that caused hospital stays from that point on.
So here we are almost 31 years later...I am grown with my own babies. I was a child that should have never survived my first day or week. But I did!
Have a wonderful year mother!