I saw the surgeon today and I was a wreck. I begged Matthew to take me back home, my chest tightened up, my breathing was HARD, My palms were sweety, and I cried. I did. Matthew pulled me from the car, and I mean this. He laughed the whole time because he said that I am the strongest woman he knows, but also the wimpiest! Hee hee! I don't care, I was NERVOUS!
We got into the office and I almost pass out. Things were going in and out for me. The girl at the counter was like, are you in pain? Matthew told her nope, she is just really nervous. I am sure that chick thought I was nuts!
I get to the back and the nurse for the doctor takes my history, weight, and blood pressure. My blood pressure was high from that stress, and I could feel it. I hate it when someone tells me that if I enjoy having babies and do it without drugs that this is nothing. No, it isn't the same thing. And I can't stand it when women relate the birth of their child to scary surgery! COME ON! That pain is delicious! It ebbs and flows, you know in your heart that it is meaninful, purposeful. And you get a BABY in the end. A baby! Sweet and chunky and yummy! :)
I guess my labor has started early, first with weight loss, I still have a bit more to go on that, and now the surgery for my belly button hernia. Darnit! I just want a baby! This is too hard! :(
The doctor doesn't seem to think it will be more than him going in tucking and pulling together, 2 or more stitches, and getting me awake and ready to go home. He said 20 minutes tops for him, if all goes well. I am not happy about going under, I do not react well to the medicines. All I have to say is that I want a girl after all this crap.
My doctor had 5 girls before they got their boy! NO WAY! Matthew told him we would adopt a girl before we had that many boys! *snicker*
On the way out the ladies gave me my "Koff-a-lot" bear for after the surgery to help with the pain when I cough. Urgh!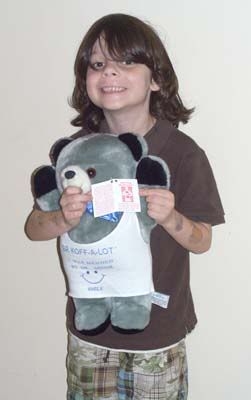 I will let you all know how I feel Friday night! Only two days away! Eeeek!
We came home and the boys planted their herbs from Easter while I planted mine and did some yard work.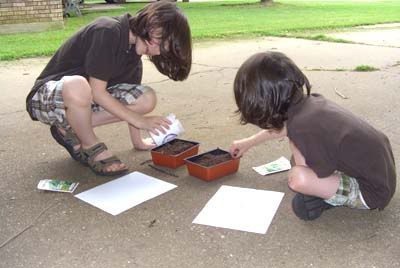 Remy and Elijah found a ladybug.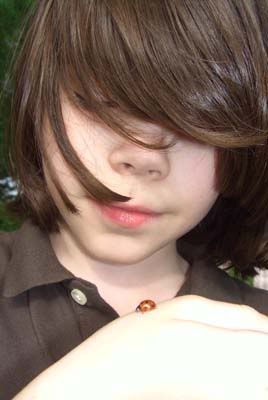 We checked on the little garden and look how much more the corn grew!
Elijah was more excited about the watermelons!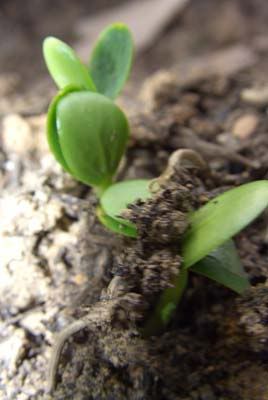 I love these purple flowers every year. :)
Remy found a frog just like the ones he played with over a Sherri's when we cleaned the pool. He was so happy! I pulled up the name of it and on the web page it played the song they sing. The frog jumped from Remy's hand and onto the computer, I think he liked the singing! :)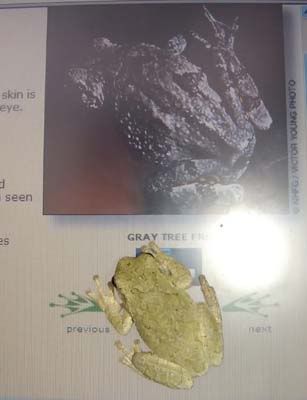 Matthew has a job interview tomorrow at Target. I will let you all know! It isn't what he wants and we still have the "super neat thing" in the cards, but we have to secure some work just in case. ;)