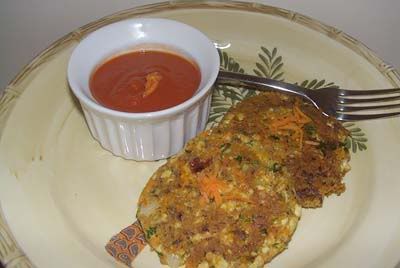 This is now Elijahs FAVORITE meal! He ate it even though it had mushrooms. :)
I found this recipe in my new October edition of Vegetarian Times.
1/4 cup finely chopped onion (I food process them to death so Remy can't find them)
14 ounces of firm tofu, drained
4 ounce can of sliced mushrooms chopped (Again I process them until they are TINY)
4 sun-dried tomatoes in oil, drained, finely chopped
1. Whisk together the mayo, onion, parsley, tarragon, and mustard in a bowl. Mash the tofu into the mixture with a fork, I used a pastry blender. Stir in the mushrooms, carrots, and sun-dried tomatoes. Fold in the breadcrumbs.
2. Heat a large skillet coated with cooking spray, I used olive oil because I didn't have spray, over medium heat. Scoop the mixture with a 1/4 cup measure cup and form into patties with your hands. Place the patties in the hot skillet and cook for around 5-7 minutes on the first side. Flip the patties and cook for another 5 minutes. Repeat until all the patties are made up and cooked.
To serve place two patties on a plate with 1/4 - 1/2 cup tomato sauce to dip.
Elijah ate 4 patties and I had to hold him off of his fathers that I had waiting in the toaster!