First of all, Darlene taught him so well. Thankyou, GOD, for people who don't mind teaching our children the things they want to learn when we just don't have the energy or gumption to do so!!!!! What a blessing Darlene is to our family.


Elijah went to his first Wilton cake class last tuesday. Matthew and I were shocked with the amount of information that was given and how much he had picked up! He shared his star-tipped cookies with us when he came home with such joy and gusto. :)


Last night I let him do some "homework" to practice what he had learned. He needed to bake a little cake for tomorrow's class so we made two. He went over the lessons of making icing, tinting the icing, spreading the icing, getting the icing as smooth as possible (which is hard), and he revisited stars on his cake. The neat thing he did was make a trasfer with gel and a cross pattern he lifted off the internet. It was a very simple cake, but he really showed us how much he had learned. He is almost to the point that I could walk away and leave him be for the entire process! I really can't wait for that. ;) My biggest job right now is keeping him from licking the icing. HA HA!


Once or twice I would say that the book says to, "do whatever", and he would say, "NOPE, that isn't what Mrs. Darlene says!" HA HA!


Here is the cake!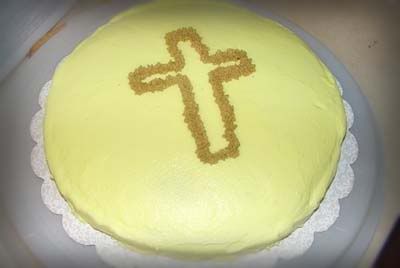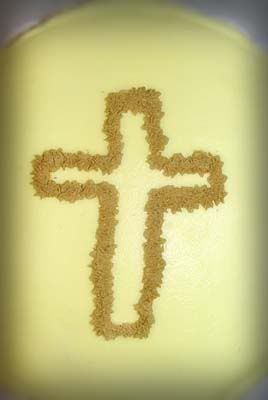 Eli is so into this class. At one point last night Matthew lifted an eyebrow and said, "He really likes doing this." Yes, honey, yes he does. *snicker* And he better like it well after all these classes. We have spent a pretty penny so far on supplies. The kids doesn't play sports nor does he want to, so this will just be his "thing" for a while. Thank GOD for insulin pumps! HA HA