I do believe the next person I absolutely and totally adored was my Aunt Liz. Aunt Liz is the sister of my mother. She was also still in highschool when I was born. Now as an adult I wonder what it was like to have your older sister have a baby while your both in highschool. Was she excited about my arrival? Did she think I was cute and sweet when I arrived? Was she scared for my life and for her sisters heart when I came so early and needed so much? What was that time like for her?


From the earliest memory of my Aunt Liz I remember lots of giggles. I remember the perfect hugs she would give me. She would save all of the treats in the cereal boxes and the fast food toys she would get in her happy meal. Then her very own baby came along and she gave them to her. I was so jealous over this. I WAS THE BABY! I liked my cousin Lacii well enough, but I also felt sad that she took alot of my love away.


Before Lacii I was the only baby. And like everyone else my Aunt catered to me. It was glorious! I always wanted to be in her arms, in her lap, by her side, in her conversations, the topic of her conversations, etc. I am sure you get the point. I wanted to be my Aunt Liz. Ha ha


One time she bought me this pink one piece swimsuit with little white seagulls all over it. She took me to
Shipwreck Island
for the day. This place was amazing to me as a little girl. I never wanted to leave. Aunt Liz either had the stamina to run after me or she faked it really well. I waded on my belly in the kids section pool for hours and when we were going home I realized I had rubbed the belly of my swimsuit so much that it had little runs and worn places on it. I was so upset! My Aunt Liz bought that for me! It was the prettiest thing in the whole world. :( It was horrible.


I remember so much from that day. It was amazing. I will remember it forever. A week with my favorite Aunt, okay my only Aunt was the best time ever.


Aunt Liz has this HUGE tub that I loved. I had never seen a tub so big. It was an indoor swimming pool. She would fill it with bubbles for me and because I squealed and begged for the water to reach the tip top of the tub she would fill it up. I would spend hours in that tub, swimming, bathing, playing with tub toys.


One time while with her for one of these magical weeks I didn't feel so well. She offered me coffee and toast to calm my tummy. In an effort to drag more sympathy from her I wailed about how sick I was and how I couldn't possibly drink coffee. Folks, I wanted that coffe, I wanted it bad. But you must understand that more hugs and sweet looks from Aunt Liz was better than coffee. Well, until about an hour or so later when I told her I was up to it and she told me, "Nope, your better now!"


As I aged she was the one I wanted to shop with. She was hip, she was stylish, and she let me pick out what I wanted. Every girls dream! I would wear the outfit she allowed me to purchase until the threads were bare. I LOVED THOSE OUTFITS!


One Christmas she gave me a jean jacket that was cut short and it had MY NAME "Chelita" embroidered on the back of it. The letters were in HOT PINK! EEEEPPPPPP! I also got a hot pink alarm clock from her. I used this clock into my marriage! Only the best of aunts will give you hot pink anything. Seriously.


She never tried to duck my coming of age questions and she answered them all truthfully. Once when I was so angry with my mother she reminded me that I was cared for, fed, had nice things, etc. I really listened to what she was saying. It meant something when she spoke.


I would sit and watch her put on make-up. Later in the day I would try to make my own face up just like hers. I had watched...but it just didn't look the same. When she would find I had used her make-up she never scolded. She would smile and say it looked good.


My favorite place to eat when I was little was
Captain D's.
I thought this was a top-notch expensive place, ya'll! How they choked it down time after time for me, I don't know.


I live far away from her now and I hardly ever see her. I hold close to my heart my Aunt Liz. She was fun and she was my second mommy. She made me feel happy in our time together. I loved being her little girl and being spoiled. I miss those moments with her. I am thankful my mother allowed me to visit her for the long stretches I did. I was very lucky to have an aunt like her when I was growing up.


Thankyou, Aunt Liz, for splashy fun at the good old Shipwreck, shopping til we dropped, and eating greasy food that had to make you sick. You did it all for me. You always went over board to give me a good week each summer. I am craving one of your hugs now. I may be grown...but I still love you so very much. I think out of all the cousins I was the one you really spent that time with. We have a bond that will never be broken. Now how do we go back in time and get rid of that pesky Lacii. HEE HEE...just kidding. But you must admit, those were some good times, Aunt Liz.

I know we had a rough time there as I grew up, was married, and I struggled with things with my grandmother. I hope you are proud of the life I have. I pray you still remember those days of my girlhood the way I do...with sweetness and an ache to go back for just one day. I love you, Aunt Lizard!

This is Aunt liz with me. This was taken in my grandmother's yard.






I remember her kisses when I was a baby girl. I remember alot from her wedding day which is surprising to me. I stole a kiss before the groom could. ;) She was MINE. :)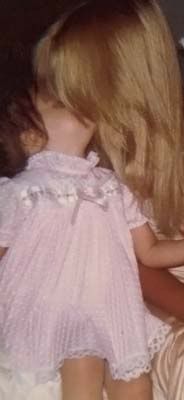 This is a recent of my Aunt Liz with her first grandchild. :) Aren't they pretty?