My Ninny Jackson is my person. Everyone who meets her realizes that she is special. She has a light in her and your spirit is drawn to her spirit. How I pray to be like that. She has many who try to claim her. I am blessed to have her. Thanks be to God that she is mine.


When I was a little girl I loved her, but she didn't take any of my crap. She was the first to discipline me out of anyone in the room. For a long time I didn't like that part of our relationship. I wanted to get away with what I wanted to do. Now that is the part of her that means so much.


There is a story about my parents taking her to eat at a chinese place when I was a toddler. She said I cried to get down from the high chair and once I was free I continued to push the chair through the place. She was so embarrassed and said she would never go out to eat with me again! I really was a rotten child. I was a walking miracle and boy did I use it to my advantage. Rotten, people, rotten!


Ninny Jackson is the mother of my father. She raised 3 boys of her own and she also has a stepson, which makes 4. When I was pregnant with Noah and praying and longing for a girl I would say, "I will be like my Ninny and have 3 boys." My husband would say, "No, you will have a girl this time." I knew my girl would come out with a boy part. HA HA And so he did. So, my Ninny and I are baby twins. :) Isn't that cute?


I remember my Ninny always being home. She made us gravy and biscuits that were so yummy we wanted them for every meal. It took me almost 33 years to perfect them in my own kitchen. My boys now ask for them once a day. :)


Ninny made her boys biscuits from scratch every morning. That is amazing to me. She was truly from a different time and her boys were so blessed. I think she should live with me and make them for me every morning.


She never measures anything. That is why it took me so long. :)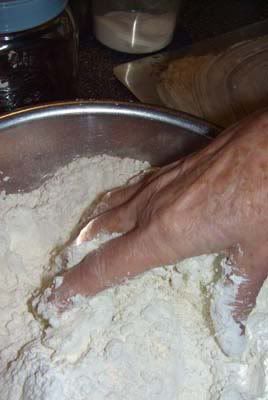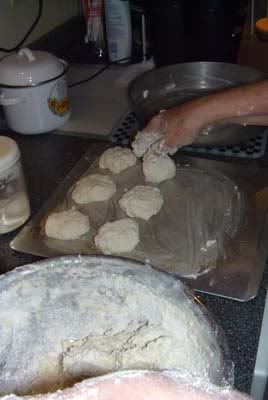 I spent long summer days at her house exploring her yard, running from chickens, afraid the bees from the bee hives would sting me, strolling through a huge garden full of good things to eat, and learning the value of work. I would whine through much of that work...but I did it. We helped to shuck and cream the corn. Cleaning the house was something I learned there very well. She even allowed us to cook with her.


Being at her house was like living in the past a bit. A time when everyone was expected to chip in and help. I learned the organics of living there. I learned that simple was better.


I remember there was a slop bucket for the chickens and in it was collected the days scraps. When I had to take it out I would glance to see what was in it. Once there was chicken. My cousin Sandi and I were so grossed out to see chicken! We couldn't feed chicken to chickens! HA HA HA HA! It was just wrong, you guys!


Once she put me to the table with fabric scraps and helped me to sew up some skirts for my barbie dolls. I was so proud when we were done. I couldn't believe we had made that together.


I always thought Ninny the most capable woman in the world. She could sew, decorate cakes, and cook yummy food to feed the entire family when they were there. She was always finding ways to make things herself. She was very good at making what she had work. I loved the things she made.


My grandmother had a hard upbringing, but her mother was loving and hard working. My Ninny Jackson learned how to listen and her heart was taught to love by her mother. She tended the house and children while her mother did what she could to raise them. I am thankful God placed her where she was as a baby, thankful that he brought her up and out of it, and that this all made her who she was. I pray we as a family have given her joy. She deserves it. I pray she sees her loved ones saved and ready for Jesus. This is her only desire. Again, she lives for others, for us.


As I have turned from a girl to a woman my love for her has increased. I love her more each year. I listen to her words. I call her when I need a friend. I hold close her advice and her friendship. I love her so much.


She was always telling me how smart I was. I always felt so good and needed with her. She gave me a sense of belonging not only to my present family, but to the family that had passed on. She was good about helping me to connect to the past. She will still sit for hours and tell and retell stories for me.


One of the stories I love is about when she was home watching her siblings while her mother was working. There was one banana left and her sister Shelby wanted it. She took the banana and ran saying, "If you catch me, you can have it!" She kept running and stayed just out of reach of my great aunt Shelby. She polished off that banana dancing and darting around the yard. I can so see it.


She fell in love with my PawPaw when she was only 15. He was in the navy and they ran off to be married in secret. She says her mother just cried and cried. Ninny says that when she met my grandfather that she had never had a hamburger and milkshake because they had been so poor. He took her out for a milkshake and a cheeseburger and that is how he won her heart. She still smiles and remembers that as the best cheeseburger. :) Can you imagine that being such a treat? Today that is something we eat when we don't have money or we are in a hurry. I picture that sweet girl eating it and relishing each bite.


Ninny has always loved working in the yard. She never wants flowers cut and in the house. She says they are better blooming and alive out of doors. I agree. :)


Once she and I spray painted some wicker furniture she found at a rummage sale. She has always loved yard sales. Give that lady a bag of quarters and she will furnish your whole house. A little spray paint, a little cleaning, and she has the perfect spot in mind for her new to her treasure. I have learned from her and every chance we get I take my boys to those sales. They also love to go treasure seeking.


Ninny loves birds and she has had a little birdie in a cage throughout the years. She loves to hear them sing. She will sit in her outside patio room that pawpaw made for her. He screened it all in and she has her television for Perry Mason and a water fountain complete with koi fish. She sits out there and does her laundry watching t.v., just close to the outside. I love sitting out there with her. In the winter the fire is going. When we are home she allows the boys to put things in the fireplace. They all love to sit in front of it and play with the fire.


You will find a basket of pecans from their trees outside and a nutcracker on top of them. Sitting next to her, eating pecans, the fire making my face hot, the crackle of the wood filling my ears...it is just heaven. I want to be there now.


Once when she was in the hospital and I was a little girl about the age of eight I went to visit her. She let me drink her broth they brought her. I loved soup, still do, and I sat on the edge of her hospital bed and drank it up.


Oh, I must tell you all about the time I helped her clean out the outside fish pond. We cleaned it out by digging the leaf clutter out. Well, on one of those digs she or I came up with a baby moccasin snake! It was thrashing and moving, I was screaming and floundering, she was stabbing at it with the head of the shovel. We must have looked comical. Needless to say I wasn't helping her dig that mess out anymore. HA HA.


I could go on and on about her and our time together. The most important thing about her is that she was the way Heavenly Father really got to the soul of me. She preached the Gospel to me at every turn. She kept those truths alive for me. Watching her I learned what it was to praise God, to need him.


One time she was listening to praise music and talking about how we would all rise up to meet the Lord in the air one day if we were in a covenant with the Lord. She was swaying and dancing and I could feel the presence of the Holy Spirit in the room. I asked her if I could just grab hold of her house coat and go up with her to the clouds. I started to cry. She said no, I had to make things right with the Lord on my own. I was very scared at that prospect, but through the years she showed me the way. That is her legacy to me, eternal life. It doesn't get better than that.


I love you Ninny for all the love you gave me, both yours and the Lords. I cherish our hour long phone calls. I miss you when my weeks home are over. We have such fun spending so much time together. I am so glad my children know you. I promise to pass what you have taught me to my children and your great grand children. Thankyou, for giving me all of yourself. Thankyou, for praying for me. I thank God for you because through you and your obeying God, I will always have a special gift.


I adore you.