I was allowed to read and review this sweet book from TIMBERDOODLE'S website.






Active Baby, Healthy Brain was written by an award-winning authority on infant development. You have only to google Margaret Sassé, the author, to see her work.


This book is pretty much a manual from birth to around 5 1/2 years of age. It is a very well put together book. The ages are in sections of development. The author did not write long how-to's on each game or activity she made the directions quick and easy to read. It only takes seconds to read the examples and it is up to you to find the simple objects and start playing. If you want to have a quick and EASY read to help you find more ways to deeply connect with your baby throughout his young years, this is the book for you. You simply open it up and follow through the book from page one. The book is like a curriculum for your baby. The ideas are some I knew, and others that I did not. I also like that the book reminded me of some time-honored baby games I had forgotten.


I found the section 6-12 months very helpful for Noah. In the two weeks that I reviewed the book I found I had a happier baby. He also grew in his abilities! I have felt really stressed to have enough time for all of my children since my third came along. Each day I run from each big boy and school them, so they get my time. Noah was just in my arms or asleep. This book reminded me to play with him more.


While the bigger boys had their work I would work with Noah. Playing with him is so delightful. I enjoyed trying out the different ideas with him and seeing his reaction. He is full of energy now and all over the place. I so wish I had this book in the beginning!


In the "creeping" activites section it showed a baby going into a box. I remembered I had a tunnel he could climb into. I took it out and set it up.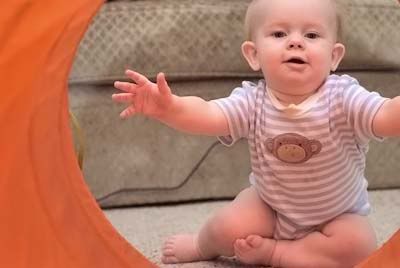 He liked it until I put him in it. He screamed, he cried, he was terrified. I quickly put it up!


Something I learned during this review and actively doing the suggestions with Noah was that even if something didn't work in one setting, it just may work in another. I took him to the park to swing him because one of the suggestions was to swing my baby. There was a tunnel, and guess what?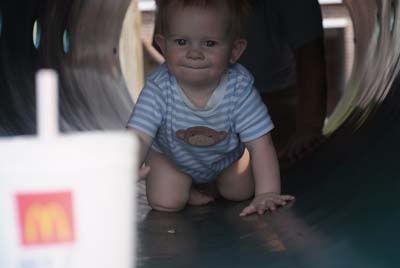 Noah loved every moment of that tunnel in an outside environment. He also enjoyed the swings. :)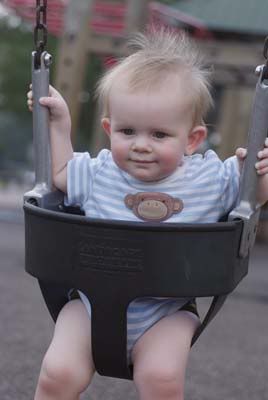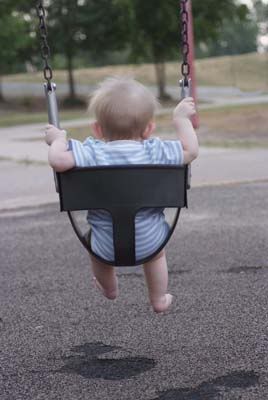 In the balance section I was reminded to do this: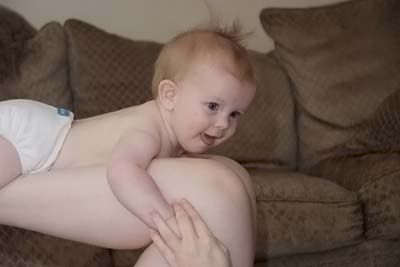 He really enjoyed flying on Mommy!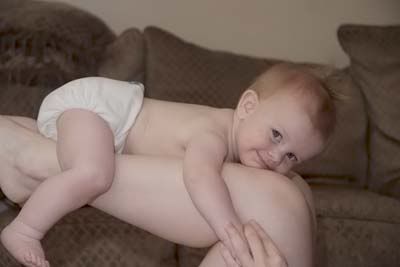 Timberdoodle has a wonderful kit that I want so much. It is full of meaningful toys to help your baby learn and grow. The toys are well-made and they fill a purpose rather than just another toy to throw in a bin. They are inviting and colorful. "Active Baby, Healthy Brain" wet my appetite for these sorts of toys for my baby. (Active Baby, Healthy Brain is part of the baby curriculum you see here. the toys in the kit work with the book.) I then went to find what I had that could correlate to some in the baby kit.






The whistle you will see listed in the baby kit caught my eye. I was curious, would my baby be able to use something like that?


We all sat in the floor and showed him how over and over.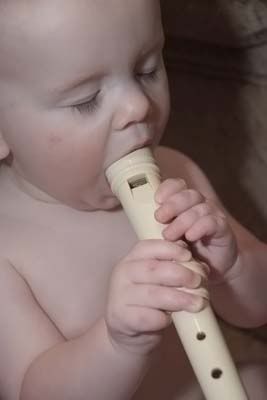 He slobbered all over that recorder and laughed at us teaching him. He enjoyed all of us playing with him. (Teaching the baby is a family affair!)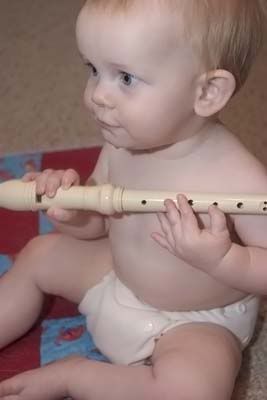 He made it whistle and he was so thrilled!








Next, I dug out these cars and stacked them again and again for him to play with. I figured he wasn't ready for them because he couldn't stack. I was wrong! Unstacking is just as good!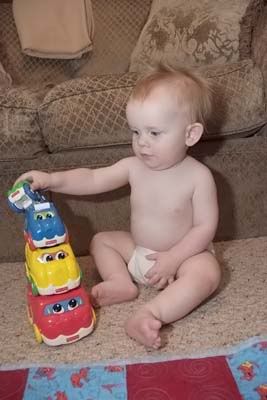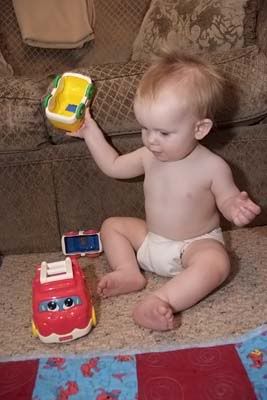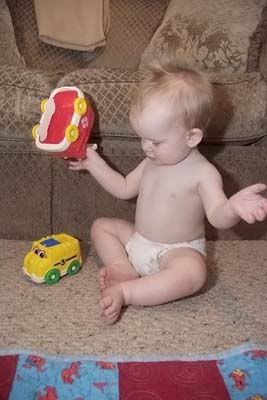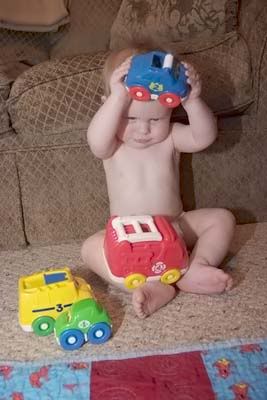 The Active Baby Book shows again and again that you can use simple things or yourself to entertain and teach your little ones. If I had seen this book before this review I would have bought it. I plan to pass it on to other mommies as gifts as well as a few of the Timberdoodle baby toys. ;)


If you need something to help you find things to do with your baby buy this book and take only a few minutes out of your day here and there (minutes per activity) and invite your baby to play. Learn to delight in the smallest accomplishments! Even if you have had many children you will enjoy working through this book with your 5 and under children. I would also suggest this as a great mother-to-be read.


Open this book, get on the floor, and chase after those silly little babies who can and will soak up every sweet game you play with them. :) Have fun!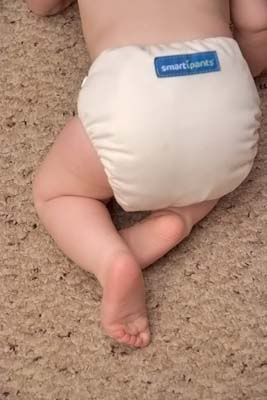 For a free Timberdoodle catalog click HERE.




As a member of Timberdoodle's Blogger Review Team I received a free copy of this book in exchange for a frank and unbiased review.