I came across this new blog called Three Many Cooks. I whipped up their Caesar Salad With Chopped Eggs & Hashbrown Croutons for supper one night. It was so delicious. I must say this is one of my ultimate favorites of 2011!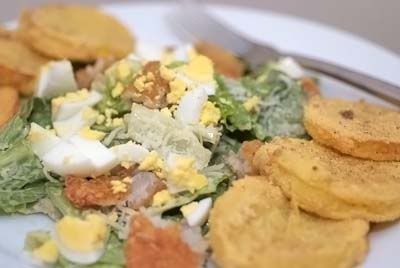 I loved making my own caesar dressing for the first time. It tasted better than the store bought. I loved store brands until I made this. I like that I can whip it up all the time now. The ingredients are handy in my kitchen.


I had some fresh yellow crooked neck squash, so I fried those up quickly in a traditional cornmeal coating. This is the way my Ninny Jackson makes it and it is yummy. I arranged them beside the salad when I served my men. Everyone ate it up.


I think I will make this very soon in my house again. The hashbrown croutons are so good on this.