My men bought me Gwyneth's book as a gift and I finally got around to cooking out of it. I knew the first recipe I would make would be her version of a corn chowder. The corn was abundant and fresh in the stores when I made it for my family. They loved it. :)






The cover just invites you into her world and her kitchen. She writes about her father, food in her life, and she gives you a beautiful picture of her sweet life. I like that she gives veggie options.


Corn Chowder
*1 1/2 Tablespoons unsalted butter
*2 slices turkey bacon, finely diced (I used veggie bacon)
*2 medium shallots, peeled and finely diced
*1/2 large yellow onion, peeled and finely diced
*2 sprigs fresh thyme
*1 bay leaf
*kernels from 6 fresh ears of corn, cobs reserved
*1/2 teaspoon coarse salt
*1/4 teaspoon freshly ground black pepper
*2 cups vegetable stock (swanson is my favorite for clear veggie broth)
*1 cup milk
*1 tablespoon minced fresh chives, for garnish
*1 teaspoon minced fresh tarrogon, for garnish


You just can't go wrong with ingredients like this!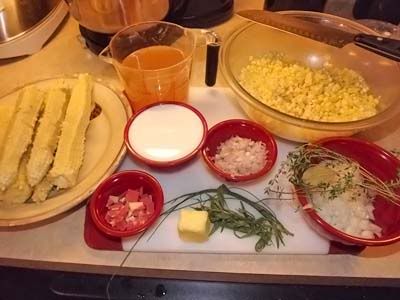 Melt the butter on medium heat.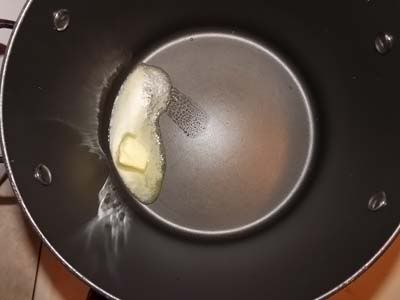 Add the *bacon* and cook until browned.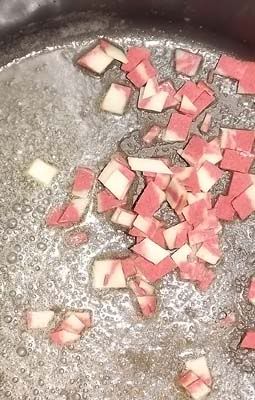 Add the shallots, thyme, and bay leaf and cook for 5 minutes, stirring here and there.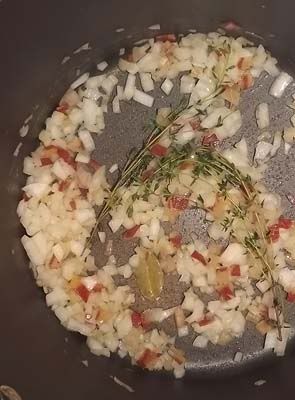 Add the corn kernels, salt, and pepper and cook for a minute.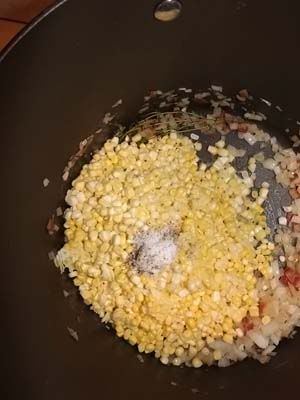 You now want to add your veggie broth, milk, and corn cobs. Heat it to a boil and then lower it to a simmer until the corn is cooked through. This will take up to 30 minutes.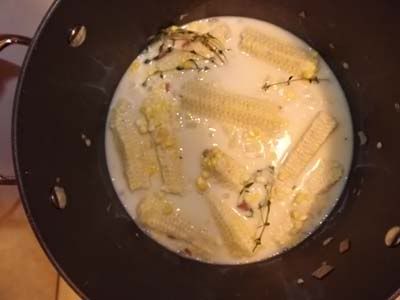 Remove the cobs and bay leaf...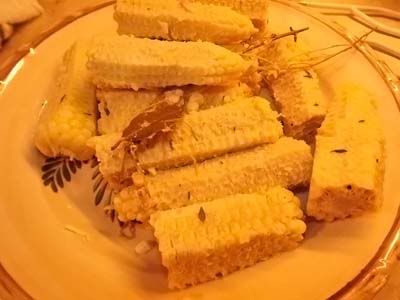 Puree a ladleful of the soup in the blender. Add it back to the pot once you are done. Season with salt and pepper to taste.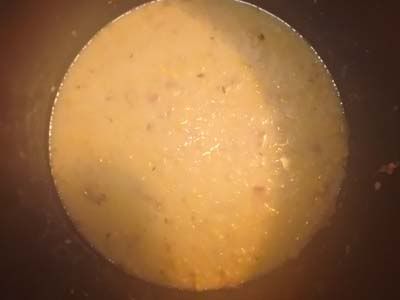 Ladle into 4 soup bowls and garnish with the chives and tarragon. If you do not have chives growing in a pot by the steps outside...DO IT! It would be simple, cheap, fast, and easy at this time of the year. :)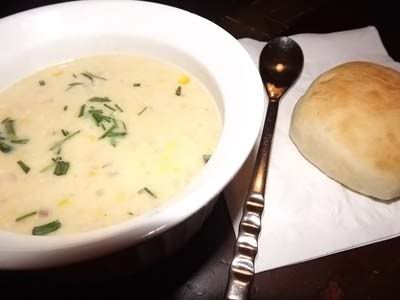 You can also use soymilk instead of the cow's milk.


This will serve 4 people. I wish I had double or tripled the pot I made. Mmmmmm...corn chowder....