As if you guys can't see that I am behind on blogging due to how much I have posted in 2 days now. I have 2 more days to blog and then maybe today. Ya know, if there is anything worth blogging about. :)
The first thing the boys wanted to do was ride this.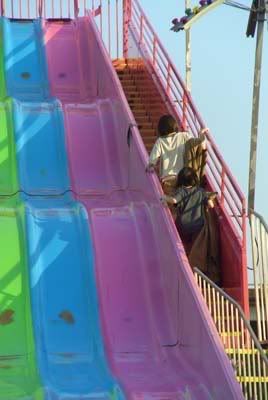 Now Remy has never gone down on his own. The lady running this thing just sat at the end. Usually they have another person up top to help. Elijah just decides to LEAVE his brother freaked out at the top as he happily slides down.



Now here is Remy all alone. But of course my little Indy/Irwin finds the wild courage within and down he goes. It wasn't as smooth a ride as it was for Eli. I was the screaming idiot in the background. I though he would die! Really! One year Eli went extremely air born and almost went over the side. It was a different slide than this one though. Whew!

Look at this SWEET boy. I swear he is delicious!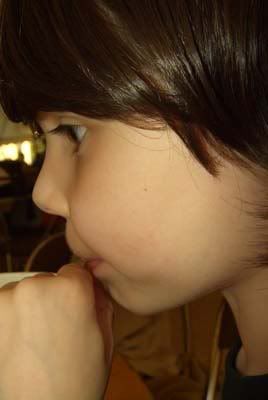 The kids and I had some MAJOR treats. Funnel cake and cotton candy. YUM YUM!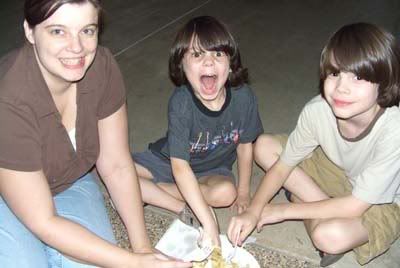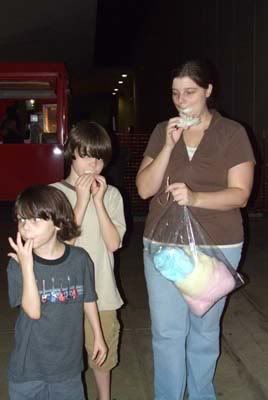 And how big can one ear of corn be? Huge when next to my ittiest bittiest boys face! He couldn't eat but a few bites. *laugh*
It was a fun time. The boys rode a few other things. But the fair just wasn't as good as it was just a few short years ago. And I am sure that having been to Disney this past Spring had nothing to do with it! *laugh* We are so ready to go back there! LOVE that place!