In Science today we had a little quick experiment. This one was to see the surface film/tension after we have studied about it. :)
Eli put the pin slowly and gently onto the top of the water in the bowl.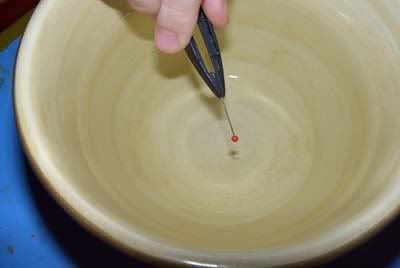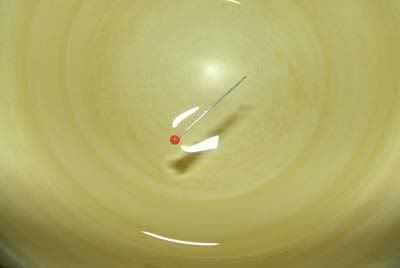 He pushed the pin down a little and the pin dropped to the bottom of the bowl, breaking the film or tension. :) Of course my mad scientist LOVED it!
We studied the Assyrians in history today. And both boys had the normal stuff too. Eli is great at division now! I am so impressed! Long division was the extent of my math abilities when I started my own studies for my GED years ago. I so see homeschooling working for my kids when I SEE the comparisons in my own schooling. How was I passed from grade to grade? We are talking passed people! Moved on to the next level of learning! It makes me sick.
We had been learning about the Ocean and we watched this DVD from our Library. The kids loved it. :) And it touched on the things we had talked about too. Gotta love that. The filming is beautiful and the music made me smile.




This is what Elijah did in art today.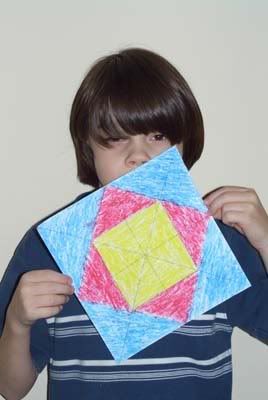 He loves shapes like that...it soothes his brain. Always has. :) Maybe he craves order?
We got our BOOKIT! program in the mail over a week ago. The kids are reading like crazy to get that coupon for pizza on the 1st of October! :) Hey it will be a cheat day for me each month, the veggie pan pizza at PizzaHut. YUM-O!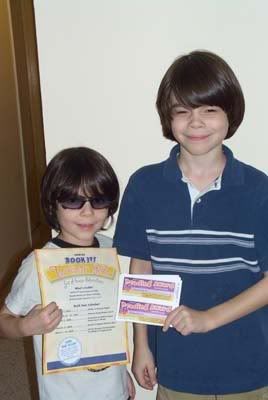 What do you think of my little boy with shades?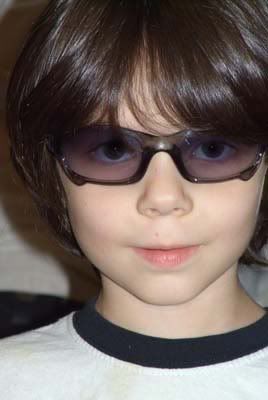 It makes me think of this:
Enjoy that blast from the past! Hee hee!
I made this for My Mikey Bears. Can't wait to put it in the mail for him. I made him up a little fun package. I miss him so much.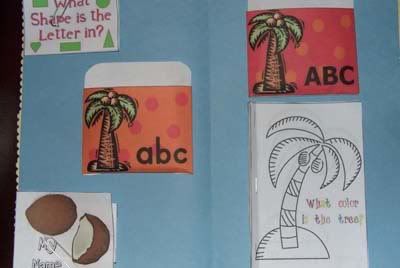 You would would like to make this or even just check out the makers blog and websites here ya go: http://1plus1plus1equals1.blogspot.com/ You will not be let down, this gal is amazing and I adore her! :)
And here is the puppy lovin' that went on during school today!