I was in the mall shopping on Friday night and I ran into Mrs. Laura and her Sweetie Pie daughter Alise!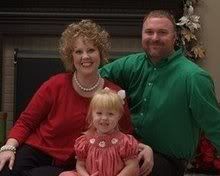 Laura and Wayne graced my life some years ago as doula clients. She had an amazing birth and I cherish the day I witnessed the two of them become parents! I will never forget Laura crying and asking for her glasses so she could see her baby better! I will never forget the little sweet face that peeped from her blanket to the outside world. How new our world was to her! And now she is a very bright and capable young lady living in a warm family full of love.
I have a HUGE secret desire to help Wayne and Laura again...but I think Mrs. Laura has other plans! *sigh*
When Laura and I saw each other we screamed and danced and hugged! We freaked Alise out BIG TIME! Oops...
Laura, we must make it a date to get together after Christmas, so she can see me less excited!
I was overjoyed to see Laura, life has been hectic for me since that birth. What a Christmas present that was for me. :)
You can get to know this sweet family here: