When you are 5 years old and it is Saturday...what do you do?
Geography with your puppies, that's what!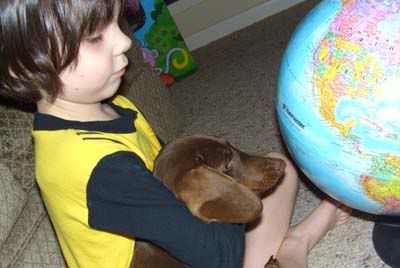 I asked Remy to show me an ocean, lake, and river on the globe. I thought he wouldn't know the difference between a lake and river. I mean, we have never talked about it. He did. *laugh*
And then I decided he should know what a continent was. He knew that too. He lives in North America. *sigh*
I then showed him all the continents. I listed off North and South America, Europe, Africa, Asia, and Australia. That is where my list ended. He says, "Oh Mommy, you forgot the ARTIC"! I was like DUH! I flipped the globe over and said, "Yep, Antarctica".
Yes folks, I am now being taught by a 5 year old. Isn't life something else?
He did some map work of the United States with his puppies.