I was in love with Joe Mcintyre when I was in middle school.
I have only been to two concerts of well known people.
Matthew and I took the children to see "Sesame Street Live" when Remy was just a baby.
And my mother took me to see these guys when I was middle school aged.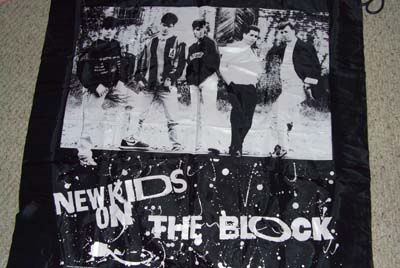 It was a DREAM come true and I just knew I would marry Joe.


I found this huge banner while we were unpacking the last of the boxes in the spare room. Yes, this is our third summer here. Yes, we are finally MOVED in. :) I just wasn't up for a new move.
So, who else will confess they were in love with these guys as young women? Am I all alone?
These guys are back together now and this banner is about 18ish years old. Matthew was joking that I should sell it on ebay and help out with the whole unemployment thing. I think NOT! I don't know that it would be worth anything, anyway.
Now you know me just a little bit better. :)