Today was the first day of the 21 day challenge. The kids and I worked together to prepare
Korean Sesame-Crusted Tofu
for our first healthy lunch.


We have started this challenge not because we eat out for lunch or because our meals are really bad in the first place. We are doing this because we wanted something fun to challenge us in our lunches. And like my friend
Nicole
said, "It is much harder than slapping together a PB&J!" Yes, it is! And it is more fun. I wanted to try some lighter recipes and recipes that I would not have considered for supper because they wouldn't have kept the boys full all through the night. They are

after all

bottomless pits.

HEE

HEE

...


Since we are

homeschoolers

and we eat at home for lunch MOST of the week I didn't pack the lunch, that will come tomorrow when we will not be home for lunch. I will pack it up and take it with us. That is going to be hard. It is so much easier to make it if your home or to just eat out if your not. We will see how that goes...tomorrow...


Anyway, here is the kids tray.





They had water, strawberries (you might see these

alot

since they are CHEAP and so sweet right now), starfruit,

raisins

(Eli's idea), and Jasmine Rice with our main entree.


Remy decided that the fruit was the best part of the meal along with the tofu. No surprise there. This is how he is all of the time. He didn't eat much of the

bok

choy

but he did eat LOTS of baby corns (his favorite) and some rice. He isn't so thrilled with rice. I didn't use brown rice as they do favor the Jasmine over the brown for ethnic dishes. I know it could have been healthier but hey it does taste good that white rice.

Mmmmm

.... Remy says the starfruit was the best part of the meal.


Elijah ate most of the rice and entree. He ate all the strawberries and nibbled the

startfruit

. I agree, starfruit is strange. He ate the

raisins

of course. He says the best part was the tofu. ;) I knew he would say that.


I had a big plate of food and didn't bother with those pesky chopsticks. I am pregnant and I don't want to wait for food...Bumble and I need it THEN and shoveled in. HA HA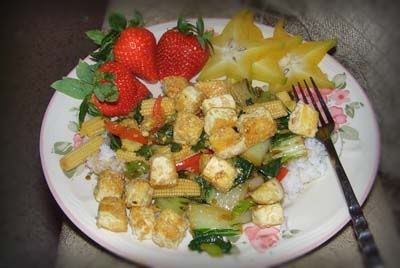 I did NOT like the starfruit, YUCK! I ate everything else. :) The baby corns were way too plenty for me and I fed most of them to my

doggie

Juliet (aka Dewy

Doggie

), she didn't mind at all. ;)


Bumble bumbled around inside with this meal. Bumble must have approved. ;)


All in all...good first day! 20 more to go!
I will say the biggest thing was getting this done by lunch and not snack like we did today. I should have started earlier.

Eekkk

!



I will also say that I did not work out on the Bike, nor did I swim, I am just too tired. I really overdid myself yesterday until I was whinny and almost cried at one time. I think since I am PG...I will shoot for the 3 days or 4 days of working out.