Mrs. Sherri allowed Eli to play "Cake Boss" this week. I was VERY nervous as this was for a BABY SHOWER for her NIECE! AACCCKKKK!!!


He started out on Monday with his roses. He made roses FOREVER!






Yesterday he baked and iced his cakes.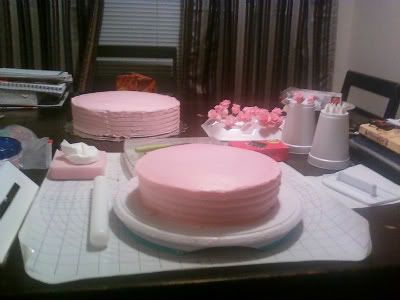 He smoothed and smoothed those cakes. If you have never done this yourself just know it is HARD to make that icing perfect. But he kept on!






He wanted to put a yellow border. I sweetly talked him out of it. LOL Told him to get his color wheel! He thankfully decided against yellow. Sherri wanted PINK! ;)






He was finally able to use those roses he made!






I didn't get photos of his fondant work because Noah Bleu was the super hungry baby who in turn made a nice diaper for me and then he wanted me to rock him to sleep. And once you get Noah to sleep...YOU. DON'T. MOVE!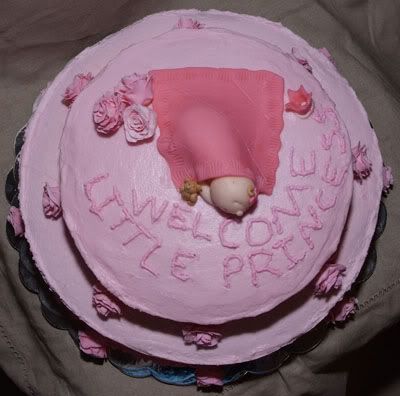 I will say that he made three fondant heads for his baby trying to get it perfect. And he thought the blanket was the coolest thing he ever made. He said the wording was hard!


Things I helped with:
*Pouring the right amount of batter into the big 12 inch pans
*Taking huge cake pans out of oven
*removing big cakes from huge cake pans
*leveling the big cakes for the bottom tier
*encouraging him to listen to his order of all pink cake and not going crazy and using yellow
*marking the text "Welcome Little Princess" with a toothpick for him to trace
*I also helped with putting the tubes in the bottom cake and the dowels through the whole cake for support as he had NEVER done this before




I made the little bear by the baby and the princess crown. I couldn't help myself. As the cake came together I had this urge to do something. HA HA! Thankyou, Eli, for putting up with your mom. ;) *He hates for me to help in anyway*


I really noticed his skills improving this time. I see him improve each time. He says he loves cake decorating because it allows him to get out the creative energy he feels inside. I had no idea he felt he needed to get something out!