We have been working very hard in school. I can't believe how much we have completed in the past three months when compared with my pregnant and new baby days. Noah has about one to two naps if I am lucky. They are not long and he fights his sleep so much. He is like Eli was...he fears he may miss something.


Remy is deep into his American History studies. I was at the teacher store and I saw hot dot cards for the states. I decided to break out the hot dot pen he had for his addition cards way back in the day. ;) He was very excited to use it again and with the states. I can see an improvement already. We were just looking at a map and saying the states. This is fun because he must find the state and make the pen light up.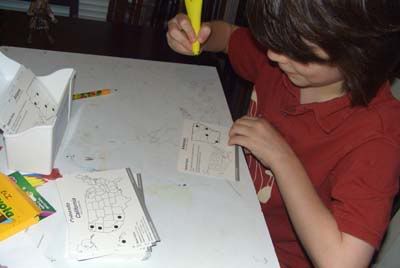 Elijah finished up his book and wrote his book report. I had to give very little correction and NO help during his writing. It is so neat to me to see how he is growing. I can see he is remembering what is expected of him and he is putting those things I have taught him to work. Whew! Sometimes you wonder if they will ever get something. He has never cared to write...but he is finding a happy balance with it.